Ethiopia's Prime Minister Abiy Ahmed has ordered a military offensive to subdue the authorities in Tigray state, following an alleged attack on an army base.
Mr Abiy accused the region's ruling party, the Tigray People's Liberation Front (TPLF), of launching the attack.
The attack resulted in "many martyrs, injuries and property damage", he said in a TV address.
The cabinet has declared a state of emergency in the region for six months.
"This situation has reached a level where it cannot be prevented and controlled through the regular law enforcement mechanisms," a statement from the prime minister's office said.
The authorities have also shut down electricity, telephone and internet services in Tigray.
Mr Abiy said that attackers "tried to loot" military assets during Wednesday morning's attack, adding that "the last red line had been crossed" forcing the federal government into a military confrontation.
Mr Abiy's office also accused the TPLF of dressing its soldiers in uniforms resembling those of the army of neighbouring Eritrea to "implicate the Eritrean government in false claims of aggression against the people of Tigray."
Tensions between the government and TPLF, which used to be part of the governing coalition before falling out with Mr Abiy, have escalated in recent months, with both sides accusing the other of plotting to use military force.
On Tuesday, the federal parliament proposed that the TPLF be designated as a "terrorist organisation."
What's is happening in Tigray?
The BBC's reporter in Tigray's regional capital, Mekelle, reports that sounds of gunfire could be heard in the city early on Wednesday morning but calm has returned.
Residents haves since poured onto the streets but there are no vehicles on the roads as local authorities have imposed restrictions on movement and they have also closed the airspace.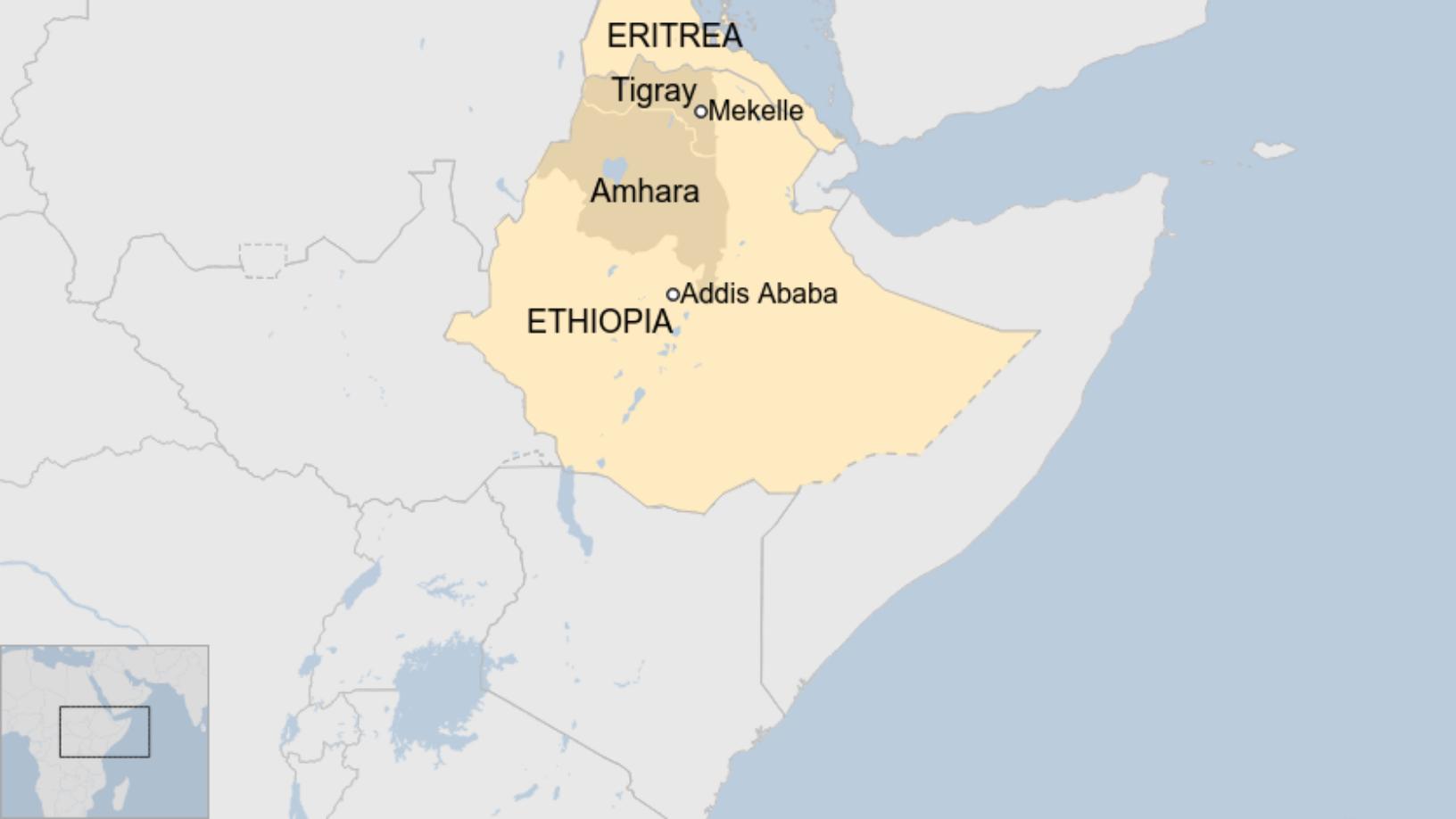 Banks and the only local office of state-owned Ethio Telecom – the country's only mobile phone company – have been closed. The national carrier Ethiopian Airlines has also stopped flights to the region.
It's unclear how the federal government will implement the state of emergency it has declared because regional leaders are in charge, our reporter says.
What have the Tigray authorities said?
A local official has claimed that federal forces deployed to the region had defected but this has not been confirmed.
Last week Tigray leaders blocked a general appointed by Abiy from assuming a new posting, saying Mr Abiy no longer had the authority to make such moves, AFP news agency reports.
On Tuesday night, hours before Mr Abiy's announcement, Wondimu Asamnew, another senior Tigrayan official, told AFP the federal government was amassing troops on the southern border of Tigray – a claim that could not be independently verified.
"I think when it comes to military mobilisation, it's not child's play. It can trigger all-out war… what they are doing is playing with fire… a small spark can ignite the whole region. So I think we are on the alert and I can assure you we are capable of defending ourselves," Wondimu said.
The Tigray region's president, Debrestion Gebremichael, told reporters on Monday the government were going to attack – alleging it was punishment for organising its own election for the Tigray parliament in September, in direct defiance of the federal government and electoral board decision to postpone all elections.
The government has described the vote as "illegal". The national electoral board has since said the general election should go ahead in May or June of next year.
The Tigrayans held most of Ethiopia's political power from 1991 to 2018, when Mr Abiy came to office. Since then, their power has waned.
Mr Abiy, who was awarded the Nobel Peace Prize in 2019, is facing increasing criticism from a number of sides, with some accusing him of locking up those who oppose his government.
Watch Leakblast TV channel from around the world
Thanks for Reading via the most updated news portal
Call Us:+234(0)9073726403
Get us on Whatsapp: +234(0)8181166425      
Email Us: editors@leakblast.com
SUPPORT LEAKBLAST JOURNALISM OF INTEGRITY AND CREDIBILITY
Good  journalism costs a lot of money.
For continued free access to the best investigative journalism in the country we ask you to consider making a modest support to this noble Endeavor.
By contributing to LeakBlast, you are helping to sustain a journalism of relevance and ensuring it remains free and available to all.