South Korea's capital Seoul is removing women-only parking spaces, 14 years after they were introduced as a protection for women.
The women-only spots had been instated in 2009 after a spate of violent crimes in basement car parks.
But city officials say such spaces aren't necessary anymore and will be converted to family parking spots.
Critics say their removal is just the latest example of anti-feminist policies in South Korea.
Chung Eun-jung, 55, said she uses the female spaces whenever she can find one: "I feel safer when I use them, that there are not so many dangerous people close by."
"When I get in the car, I always lock the door immediately," she said, adding that she was well aware of car park crimes, often reported in the news.
Her daughter said she was upset that her mother would feel less safe.
"They're not that big of a deal. It is not like half the carpark is dedicated to women; it is only a few spots."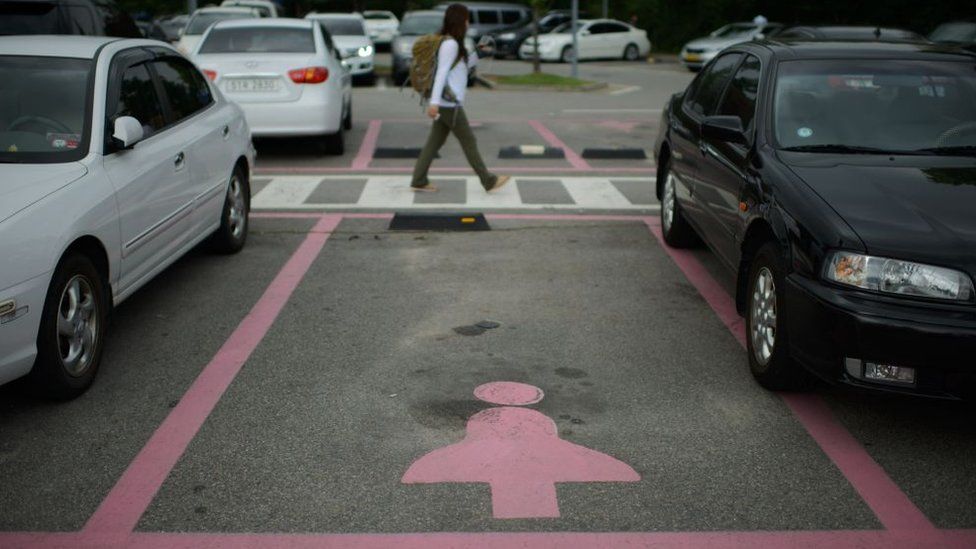 In Seoul, which is South Korea's largest city, car parks with more than 30 spaces were required to allocate 10% to women – just under 2,000 of the 16,640 public parking spaces were reserved for women.
They tended to be near building entrances so women wouldn't have to walk through basements in the dark.
Government figures in 2021 showed more than two-thirds of violent crimes committed in the city's car parks were sexual crimes: rape, sexual assault and harassment.
But Seoul Mayor Oh Se-hoon, who introduced the women-only spaces, is reversing his own policy. He has said it is time to "consider families".